Keysert Range Kits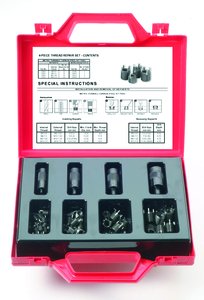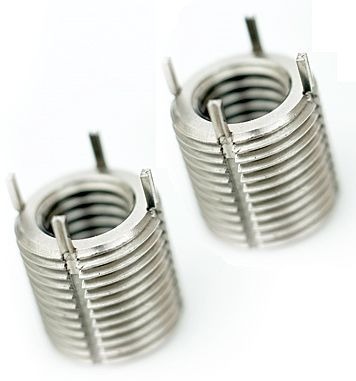 This solid, one piece insert is used to replace damaged, stripped or worn threads. Each Recoil Keysert features either 2 or 4 locking keys, which provide a positive mechanical lock preventing rotation or torsion.
Benefits:
Reliable in the toughest conditions - including heavy wear and high vibration situations.
Easy to remove and install with standard drills and taps.
Available in carbon & stainless steel material and in metric & imperial sizes.
Suitable for use in a wide range of materials, including aluminium and magnesium.
An extensive choice of solid insert styles and installation tools available.
Note: Recoil Keyserts are not recommended for use in brittle materials like cast iron or plastic.
Tooling-Only Range Kits
| Keysert Tool No. | Installs Inch Series (TW & HD) | Installs Metric Series (TW & HD) |
| --- | --- | --- |
| 72190 | #10 | M5 |
| 72250 | 1/4" | M6 |
| 72312 | 5/16" | M8 |
| 72375 | 3/8"-7/16" | M10 |
| 72500 | 1/2"-9/16" | M12 |
| 72625 | 5/8" | M16 |
| 72875 | 3/4"-7/8" | M20-22 |
| 72100 | 1" | N/A |
4-Piece Range Kits
UNC Carbon Steel Thinwall Range Kit Part No. KS-76003
| Size | Keysert Insert No. | No. of Pieces | Keysert Tool No. | No. of Pieces |
| --- | --- | --- | --- | --- |
| 1/4-20 | 73041 | 12 | 72250 | 1 |
| 5/16-18 | 73051 | 12 | 72312 | 1 |
| 3/8-16 | 73061 | 12 | 72375 | 1 |
| 1/2-13 | 73081 | 6 | 72500 | 1 |
UNC Stainless Steel Thinwall Range Kit Part No. KS-76004
| Size | Keysert Insert No. | No. of Pieces | Keysert Tool No. | No. of Pieces |
| --- | --- | --- | --- | --- |
| 1/4-20 | 73046 | 12 | 72250 | 1 |
| 5/16-18 | 73056 | 12 | 72312 | 1 |
| 3/8-16 | 73066 | 12 | 72375 | 1 |
| 1/2-13 | 73086 | 6 | 72500 | 1 |
Metric Coarse Carbon Steel Thinwall Range Kit Part No. KS-75003
| Size | Keysert Insert No. | No. of Pieces | Keysert Tool No. | No. of Pieces |
| --- | --- | --- | --- | --- |
| M5-0.8 | 75051 | 12 | 72190 | 1 |
| M6-1.0 | 75061 | 12 | 72250 | 1 |
| M8-1.25 | 75081 | 12 | 72312 | 1 |
| M10-1.5 | 75101 | 12 | 72375 | 1 |
Metric Coarse Stainless Thinwall Range Kit Part No. KS-75004
| Size | Keysert Insert No. | No. of Pieces | Keysert Tool No. | No. of Pieces |
| --- | --- | --- | --- | --- |
| M5-0.8 | 75056 | 12 | 72190 | 1 |
| M6-1.0 | 75066 | 12 | 72250 | 1 |
| M8-1.25 | 75086 | 12 | 72312 | 1 |
| M10-1.5 | 75106 | 12 | 72375 | 1 |
6-Piece Range Kits
UNC Carbon Steel Heavy-Duty Range Kit Part No. KS-70003
| Size | Keysert Insert No. | No. of Pieces | Keysert Tool No. | No. of Pieces |
| --- | --- | --- | --- | --- |
| 1/4-20 | 73042 | 20 | 70042 | 1 |
| 5/16-18 | 73052 | 15 | 70052 | 1 |
| 3/8-16 | 73062 | 10 | 70062 | 1 |
| 1/2-13 | 73082 | 6 | 70082 | 1 |
| 5/8-11 | 73102 | 3 | 70102 | 1 |
| 3/4-10 | 73122 | 3 | 70122 | 1 |
UNF Carbon Steel Heavy-Duty Range Kit Part No. KS-71003
| Size | Keysert Insert No. | No. of Pieces | Keysert Tool No. | No. of Pieces |
| --- | --- | --- | --- | --- |
| 1/4-28 | 74042 | 20 | 70042 | 1 |
| 5/16-24 | 74052 | 15 | 70052 | 1 |
| 3/8-24 | 74062 | 10 | 70062 | 1 |
| 1/2-20 | 74082 | 6 | 70082 | 1 |
| 5/8-18 | 74102 | 3 | 70102 | 1 |
| 3/4-16 | 74122 | 3 | 70122 | 1 |
UNC Stainless Steel Heavy-Duty Range Kit Part No. KS-70004
| Size | Keysert Insert No. | No. of Pieces | Keysert Tool No. | No. of Pieces |
| --- | --- | --- | --- | --- |
| 1/4-20 | 73047 | 20 | 70042 | 1 |
| 5/16-18 | 73057 | 15 | 70052 | 1 |
| 3/8-16 | 73067 | 10 | 70062 | 1 |
| 1/2-13 | 73087 | 6 | 70082 | 1 |
| 5/8-11 | 73107 | 3 | 70102 | 1 |
| 3/4-10 | 73127 | 3 | 70122 | 1 |
UNF Stainless Steel Heavy-Duty Range Kit Part No. KS-71004
| Size | Keysert Insert No. | No. of Pieces | Keysert Tool No. | No. of Pieces |
| --- | --- | --- | --- | --- |
| 1/4-28 | 74047 | 20 | 70042 | 1 |
| 5/16-24 | 74057 | 15 | 70052 | 1 |
| 3/8-24 | 74067 | 10 | 70062 | 1 |
| 1/2-20 | 74087 | 6 | 70082 | 1 |
| 5/8-18 | 74107 | 3 | 70102 | 1 |
| 3/4-16 | 74127 | 3 | 70122 | 1 |
Master Range Kits
UNC Carbon Steel Heavy-Duty Range Kit Part No. KS-73003
| Size | Keysert Insert No. | No. of Pieces | Keysert Tool No. | No. of Pieces |
| --- | --- | --- | --- | --- |
| 1/4-20 | 73042 | 20 | 70042 | 1 |
| 5/16-18 | 73052 | 15 | 70052 | 1 |
| 3/8-16 | 73062 | 10 | 70062 | 1 |
| 7/16-14 | 73072 | 10 | 70072 | 1 |
| 1/2-13 | 73082 | 6 | 70082 | 1 |
| 9/16-12 | 73092 | 5 | 70092 | 1 |
| 5/8-11 | 73102 | 3 | 70102 | 1 |
| 3/4-10 | 73122 | 3 | 70122 | 1 |
| 7/8-9 | 73142 | 3 | 70142 | 1 |
| 1-8 | 73162 | 2 | 70162 | 1 |
UNF Carbon Steel Heavy-Duty Range Kit Part No. KS-74003
| Size | Keysert Insert No. | No. of Pieces | Keysert Tool No. | No. of Pieces |
| --- | --- | --- | --- | --- |
| 1/4-28 | 74042 | 20 | 70042 | 1 |
| 5/16-24 | 74052 | 15 | 70052 | 1 |
| 3/8-24 | 74062 | 10 | 70062 | 1 |
| 7/16-20 | 74072 | 10 | 70072 | 1 |
| 1/2-20 | 74082 | 6 | 70082 | 1 |
| 9/16-18 | 74092 | 5 | 70092 | 1 |
| 5/8-18 | 74102 | 3 | 70102 | 1 |
| 3/4-16 | 74122 | 3 | 70122 | 1 |
| 7/8-14 | 74142 | 3 | 70142 | 1 |
| 1-12 | 74162 | 2 | 70162 | 1 |
UNC Stainless Steel Heavy-Duty Range Kit Part No. KS-73004
| Size | Keysert Insert No. | No. of Pieces | Keysert Tool No. | No. of Pieces |
| --- | --- | --- | --- | --- |
| 1/4-20 | 73047 | 20 | 70042 | 1 |
| 5/16-18 | 73057 | 15 | 70052 | 1 |
| 3/8-16 | 73067 | 10 | 70062 | 1 |
| 7/16-14 | 73077 | 10 | 70072 | 1 |
| 1/2-13 | 73087 | 6 | 70082 | 1 |
| 9/16-12 | 73097 | 5 | 70092 | 1 |
| 5/8-11 | 73107 | 3 | 70102 | 1 |
| 3/4-10 | 73127 | 3 | 70122 | 1 |
| 7/8-9 | 73147 | 3 | 70142 | 1 |
| 1-8 | 73167 | 2 | 70162 | 1 |
UNF Stainless Steel Heavy-Duty Range Kit Part No. KS-74004
| Size | Keysert Insert No. | No. of Pieces | Keysert Tool No. | No. of Pieces |
| --- | --- | --- | --- | --- |
| 1/4-28 | 74047 | 20 | 70042 | 1 |
| 5/16-24 | 74057 | 15 | 70052 | 1 |
| 3/8-24 | 74067 | 10 | 70062 | 1 |
| 7/16-20 | 74077 | 10 | 70072 | 1 |
| 1/2-20 | 74087 | 6 | 70082 | 1 |
| 9/16-18 | 74097 | 5 | 70092 | 1 |
| 5/8-18 | 74107 | 3 | 70102 | 1 |
| 3/4-16 | 74127 | 3 | 70122 | 1 |
| 7/8-14 | 74147 | 3 | 70142 | 1 |
| 1-12 | 74167 | 2 | 70162 | 1 |