Ribbed "L" Series Rivet Nuts
We offer a complete line of rivet nuts with a variety of features: splined and non-splined body, large and small flange head, high strength threads and more. Our rivet nuts will fit all of your requirements for any application. For more information about the types of rivet nuts and threaded inserts that we carry in stock, use the links below.
The Ribbed "L" Series Rivet Nut features a large flange head configuration with a splined body.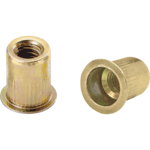 Ribbed "L" Series Rivet Nut Benefits:
Splined Body: The splined body provides increased torque-to-turn resistance over conventional non-splined inserts.
Large Flange: Provides a large bearing surface which increases push-out performance.
Wide Grip Range: The range of product within the L series provides a placing capability in material thickness ranging from .020" (0,5mm) to 0.312" (7,9mm).
High-Strength Threads: The threads are rolled into the product creating a work-hardened surface providing high-strength, load-bearing threads.
Lead-In Chamfer: The lead-in chamfer on the body provides ease of insertion into the work piece.

Imperial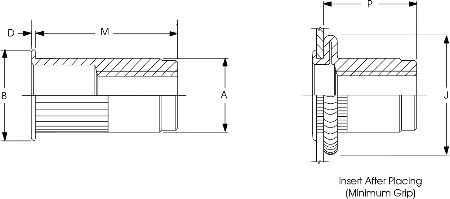 Series
Material
Finish
RN-(thread size and grip) ALR
Aluminum
Clear protective Coating
RN-(thread size and grip) SLR
Steel
Steel Zinc Plate and Yellow Dichromate
Example: 5/16-18 with .150 max grip:
ADD SLR FOR STEEL OR ALR FOR ALUMINUM
RN-5161815-SLR
JAY-CEE SALES PART NUMBERS
THREAD SIZE
GRIP RANGE
BODY DIA. MAX
HEAD DIA
LENGTH
HOLE SIZE

+/- .010

* +/- .025

+/-.015
+.006/-.000
RN632080*LR
6-32 UNC
.020-.080
.265
0.390
0.420
.266
RN632130*LR
6-32 UNC
.080-.130
.265
0.390
0.470
.266
RN832080*LR
8-32 UNC
.020-.080
.265
0.390
0.420
.266
RN832130*LR
8-32 UNC
.080-.130
.265
0.390
0.470
.266
RN1024130*LR
10-24 UNC
.020-.130
.296
0.415
0.475
.297
RN1024225*LR
10-24 UNC
.130-.225
.296
0.415
0.585
.297
RN1032130*LR
10-32 UNF
.020-.130
.296
0.415
0.475
.297
RN1032225*LR
10-32 UNF
.130-.225
.296
0.415
0.585
.297
RN2520165*LR
1/4-20 UNC
.027-.165
.390
0.500
0.580
.391
RN2520260*LR
1/4-20 UNC
.165-.260
.390
0.500
0.680
.391
RN5161815*LR
5/16-18 UNC
.027-.150
.530
0.685*
0.690
.531
RN5161831*LR
5/16-18 UNC
.150-.312
.530
0.685*
0.805
.531
RN3816150*LR
3/8-16 UNC
.027-.150
.530
0.685*
0.690
.531
RN3816312*LR
3/8-16 UNC
.150-.312
.530
0.685*
0.805
.531
RN5013200*LR
1/2-13 UNC
.063-.200
.685
0.865*
1.150
.688
RN5013350*LR
1/2-13 UNC
.200-.350
.685
0.865*
1.300
.688
* specials are available in stainless steel and aluminum
Minimums may apply
JAY-CEE SALES PART NUMBERS
THREAD SIZE
GRIP RANGE
BODY DIA. MAX
HEAD DIA
LENGTH
HOLE SIZE

+/- .0,25

* +/- 0,64

+/-,38
+.15/-.000 (mm)
RN47020*LR
M4 X 0.7 ISO
0.50-2.00mm
6,73
9,91
10,67
6.75
RN47033*LR
M4 X 0.7 ISO
2.00-3.30mm
6,73
9,91
11,94
6.75
RN58033*LR
M5 X .08 ISO
0.50-3.30mm
7,52
10,54
12,07
7.60
RN58057*LR
M5 X .08 ISO
3.30-5.70mm
7,52
10,54
14,86
7.60
RN61042*LR
M6 X 1.0 ISO
0.70-4.20mm
9,91
12,70
14,73
10.00
RN61066*LR
M6 X 1.0 ISO
4.20-6.60mm
9,91
12,70
17,27
10.00
RN812538*LR
M8 X 1.25 ISO
0.70-3.80mm
13,46
17,40*
17,53
13.50
RN812579*LR
M8 X 1.25 ISO
3.80-7.90mm
13,46
17,40*
20,45
13.50
RN101538*LR
M10 X 1.5 ISO
0.70-3.80mm
13,46
17,40*
17,53
13.50
RN101579*LR
M10 X 1.5 ISO
3.80-7.90mm
13,46
17,40*
20,45
13.50
* specials are available in stainless steel and aluminum
Minimums may apply
3 Easy Steps for Rivet Nut Installation