Jay-Cee Sales & Rivet Inc.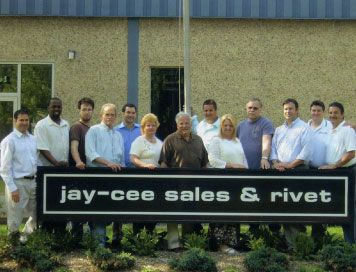 Today, Jay-Cee Sales & Rivet Inc. is considered the nation's largest in-stock supplier of rivets and special fasteners. The company backs up that claim with 35,000 square feet of space containing over eight million pounds of inventory! That inventory includes everything from blind rivets, drive rivets, solid rivets, and rivet nuts, to brake lining rivets, tinner rivets, semi-tubular rivets, large steel rivets (1/2" and above), split rivets, and SAE clevis pine, plus riveting tools. Little wonder the company states that it will provide any type rivet, any size, any metal, to meet customer requirements.
Read more below about Jay-Cee Sales from Link Magazine: The national magazine for fastener distributors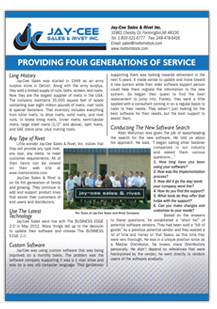 Jay-Cee Sales & Rivet, Inc. states that they will provide any type rivet, any size, any metal, to meet customer requirements. All of their items can be viewed on their web site at www.rivetsinstock.com
Jay-Cee Sales & Rivet is on its 4th generation of family and growing. They continue to add and support product lines that assist their customers of end users and distributors...[Read More]
---
Jay-Cee Sales & Rivet Testimonials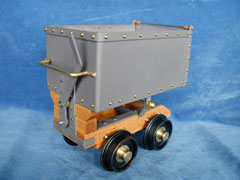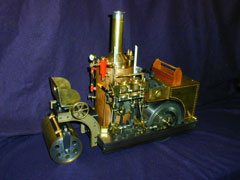 Dear Andy,
Here are a couple of color photos of my museum quality models which incorporate your products.
Regards, Jim
---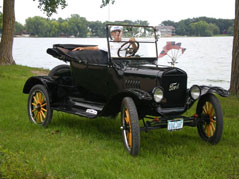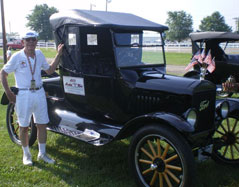 My restored 1923 Model T that Greg helped be by sending me a free sample of some flat head rivets to fasten the brackets beneath the fenders. You can just barely see them on top of the right front fender. Some rivet companies wanted me to buy 1000 as a min. order etc. Others didn't have them in stock. So I really appreciated Greg's help. I would have sent this sooner but I just ran across the number to call for an address--sorry--better late than never I guess. I finished it in June of 2007 and have taken in on national tours the past two summers.
Thanks again Greg
Marvin Larson
---
Greg,
I wrote to you a couple of weeks ago, asking about prices for a couple of dozen rivets for an art project on which I was working. You totally surprised me and told me you'd send them along at no charge.
I am now writing to you simply to say thanks, and am attaching two photos of the finished work, just so you can see were your rivets went.
I used them in the construction of a wood picture frame, which is framing a WPA-era lithograph by Robert Muchley (1937, if I remember correctly). Since the print shows a guy using a rivet gun, it only seemed fair that the frame should reflect the same.
Thanks again! I will keep you in my contact book for the next time I (or any of my students) need some rivets.
David Amundson
Woodshop Manager, School of Art, Design, and Architecture Judson University
Elgin, Illinois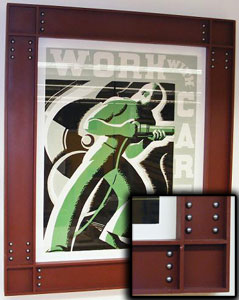 ---
Hi,
About a year ago, I contacted about 100 businesses about some rivets I needed to restore an old pedal car for my son. I could not get any one to help me out on the rivets except for you guys. I really appreciate all your help in getting me the rivets. I finally got the car done for Christmas and I thought I would send you a picture of the before and after project. Thanks again for all your help and I will definately tell people what a great company you are.
Justin Elton
Red Lodge High School
Red Lodge, Montana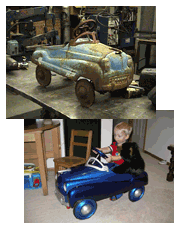 ---
I am not quite sure who this e-mail should be addressed to, however, I wanted to inform you about a call I made to your company on Wednesday June 27th. I own a 1976 aluminum hull boat, and I have been struggling with rivet problems for three years. I finally decided to fix the rivets properly this summer, which means removing my deck, tanks chairs, etc. I have been reluctant to do so because every person I've talked to (including the manufacturer of the boat) have claimed that it is almost pointless to try and fix the hull. Until I spoke with your associate. His name is Jason, and his extension is 26 (I did not get his last name) and he was extraordinarily helpful, to the point where his knowledge and expertise even gave him the ability to address my concerns before I even mentioned them. Your company has a very talented salesman. It really takes knowledge of the product to anticipate what concerns the customer. His explanation of your product and insight into it's application were invaluable. Admittedly my final order from your company might not even be $100.00, and it is very doubtful I will have much need to buy rivets ever again, but I will do whatever I can to praise your company and its employees, particularly Jason. Thank-you very much and your help is greatly appreciated, you helped me turn a leaking sieve of a boat into an enjoyable pasttime again.
With sincerest regards,
Paul G. Eldridge
Avon OH
---
Another successful restoration using Rivets-In-Stock products.