Impact Riveters / Orbital Riveters

From our pneumatic rivet nut tools to blind rivet tools, you can count on us to provide you with quality, low cost power rivet tools.
For more information please email us at jcsales@orbitform.com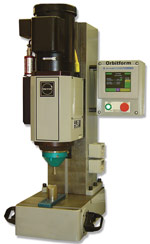 Orbital riveting and orbital forming machines are optimal riveting machines for many riveting equipment applications. An orbital riveter is a unique riveter.
Orbitform is the industry leader in delivering orbital solutions.
Call to order!
Orbital riveting is a method of joining multiple parts together by cold forming the end of a rivet. The resulting joint may or may not allow rotation of the mated parts, depending on the product design. Typical solid rivet sizes range from 0.02" to 3" diameter.
Orbital forming is a method of deforming material to a desired shape with an orbital riveter. This process can be used to flare, swage, and crown material from 0.02" to 6" diameter.
Advantages of Orbitform's orbital forming machines:
Low force to material upset ratio
Quiet and safe process with precise control and consistency
Gentle to parts, minimal or no effect on non-contact area of workpiece
Especially well suited for controlling pivoting joint resistance
Less force, less floor space, less energy, less capital, less costs
Wide range of forming heads available
Various attractive finished looks
Materials: aluminum, steel, brass, bronze, copper, lead, stainless, plastics, etc.
Preferred solution where shank swelling, buckling, or part damage is a concern.
Visit What is Orbital Forming? to learn more about the process.
Visit Orbital Forming of Rivets to learn about design considerations, rivet dimensions, and forming forces.
For immediate assistance please call 1-517-780-4205 or visit www.orbitform.com
---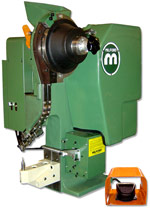 Orbitform is a rivet machine manufacturer and riveting machines solution provider. Orbital riveting and impact riveting are riveting equipment solutions, and Orbitform focuses on riveting solutions delivered.
Orbitform Group's line of Adtech and Milford impact riveters are the industry standard. For over 80 years we have been delivering solutions for all types of applications, worldwide.
Our wide ranging lineup features:
Simple stand-alone machines
Complex multi-station workcells
Manual and automatic feed
Solid riveting
Self-piercing riveting
Semi-tubular riveting
Staking
Clinching
Besides their dependability and rugged construction, Orbitform Group's impact riveters feature the industry's most heavy-duty clutches, drives and cylinders. All machines are available with an unlimited variety of tooling, anvils, anvil holders, and special fixtures.
Orbitform Group supports our customers with factory trained sales engineers and applications specialists. We have the expertise to deliver the solution to any riveting requirement.
For immediate assistance please call 1-517-780-4205 or visit www.orbitform.com