Threaded Inserts
We offer a complete line of threaded inserts in stock to meet all of your requirements.
Threaded Inserts Specifications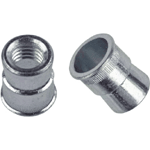 Thread-Serts are versatile threaded fasteners that can be used in a variety of applications. Use Thread-Serts in any thickness of metal or rigid material of at least 3/32" (.0937). Eliminate the need for tapping, welding and brazing. Thread-Sert design consists of an upper sleeve and a base which both and internal and external threads. During installation the base is drawn upwards inside the upper sleeve forcing a 360° contact between the sleeve and application material. No special preparation is needed; a drilled or punched hole is all that is required. Because of its unique setting ability, Thread-Serts can be used in almost any thickness of material. Installation is made easy with a variety of tools and kits.
PART #
Installation Hole Size
Dimensions
Blind Hole
Depth
Min.
Grip Range
HD
L
D
IL
.030-.090
.091-.124
.125-.186
.187-over
±.005
±.015
Max.
Max.
RN632STS 6-32
0.219
0.221
0.228
0.228
0.240
0.370
0.2185
0.205
0.400
RN832STS 8-32
0.250
0.257
0.266
0.266
0.269
0.370
0.2495
0.205
0.400
RN1024STS 10-24
0.281
0.290
0.290
0.297
0.306
0.370
0.2805
0.205
0.400
RN1032STS 10-32
0.281
0.290
0.290
0.297
0.306
0.370
0.2805
0.205
0.400
RN2520STS 1/4-20
0.375
0.375
0.386
0.391
0.400
0.515
0.3745
0.275
0.540
RN51618STS 5/16-18
0.500
0.500
0.516
0.516
0.528
0.615
0.4995
0.325
0.640
RN3816STS 3/8-16
0.563
0.563
0.578
0.578
0.588
0.745
0.5615
0.390
0.770